"It is what you learn after you know it all that really counts" -John Wooden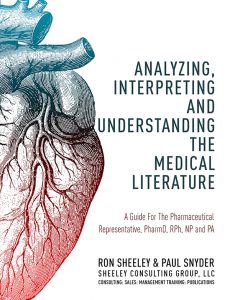 "Analyzing, Interpreting & Understanding The Medical Literature" addresses the vital process of applying medical journal studies to the sales process.  We include special emphasis on dissecting and interpreting all the important sections of a medical study with emphasis "Material & Methods" section of journal articles.  A Briefing Guide"© is included to provide a pertinent list of questions for medical studies to ensure you are prepared to answer logical questions and keep a searchable record of key articles.  A must read for pharmaceutical representatives, PharmD's, RNP's and PA's.
Soft Cover $24.95
E-Book $19.95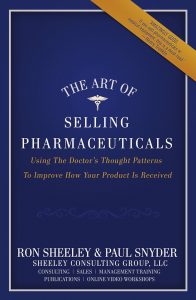 We are experts and innovators in "Patient-Type Centered Selling"© and are skilled at developing specific patient descriptions with the purpose of helping users anticipate a best, first use for your product.  Our knowledge of developing specific patient descriptions and how we provide guidance of how to present a product in a manner that makes sense to a provider is captured in our book, "The Art of Selling Pharmaceuticals – Using The Doctor's Thought Patterns To Improve How Your Product Is Received"
Soft Cover $14.95
E-Book $9.95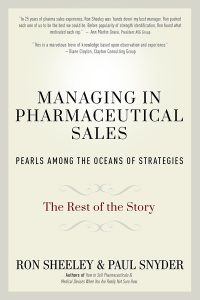 The key elements of how to manage and what you need to do to be a first-rate pharmaceutical and medical equipment manager are outlined in our best-selling manual, "Managing In Pharmaceutical Sales…Pearls Among The Oceans Of Strategies." Our advice is based on years of experience supervising front-line office and hospital-based representatives. We include advice on navigating the dreaded interviewing and hiring process, on writing representative trip reports, on managing your work day, on developing better communication and a lot more.  These are the key elements of being a successful manager.
Soft Cover $24.95
E-Book $19.95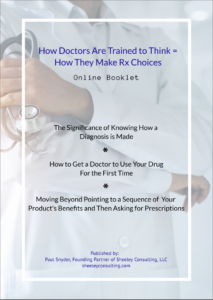 "How Doctors are Trained to Think = How They Make Rx Choices" the ability to quickly focus the attention of your customers by using the thought sequence that they have been trained to use since their residencies. Earning a close with a presentation that parallels their differential diagnostic sequence is the point we are making.The sales concepts we outline in this one-of-a-kind booklet are central to our adanced view about how to deliver meaningful presentations. If you are having trouble getting a provider to use your drug for the first time, this booklet is a must read.
"Outstanding Representative Digest" is bi-monthly internet journal with 6 issues per year. We provide insight and approaches on how to handle problems and issues common to all pharmaceutical reps. From how to conduct a successful lunch-n-learn, to how to use a medical study in a stand-up sales presentation, to what goes on in a Grand Round Program and why it is important for you to know. We believe in learning by example. Therefore, each issue will be devoted to actual examples of how representatives may use our information to improve their skill level. If you want new ideas and approaches on a variety of topics in pharmaceutical sales, this journal delivers without fluff.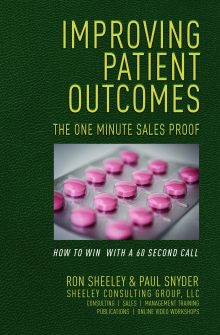 "Improving Patient Outcomes" SCG focuses upon some very credible goals! We wrote 'IMPROVING PATIENT OUTCOMES, THE ONE MINUTE SALES PROOF' to enhance the perceived value of corporate sales messages by giving key insights into how physicians think, and what kinds of messages are most memorable. The focus here is upon seizing the opportunity to maximize the short presentations. The result we have seen is to create value of your interactions in offices, earning enhanced regard. This is
not marketing theory; it is a proven approach that has resulted in field representatives and medical liaison staff making changes that enhance the outcomes of specific patients. This powerful little book demonstrates the outstanding benefit of our experience and insight! An immediate impression is that Sheeley Consulting is thinking outside of the box, and our answer is YES! Let us help your team move forward by stepping ahead of your competition with true medically valuable enhancements.